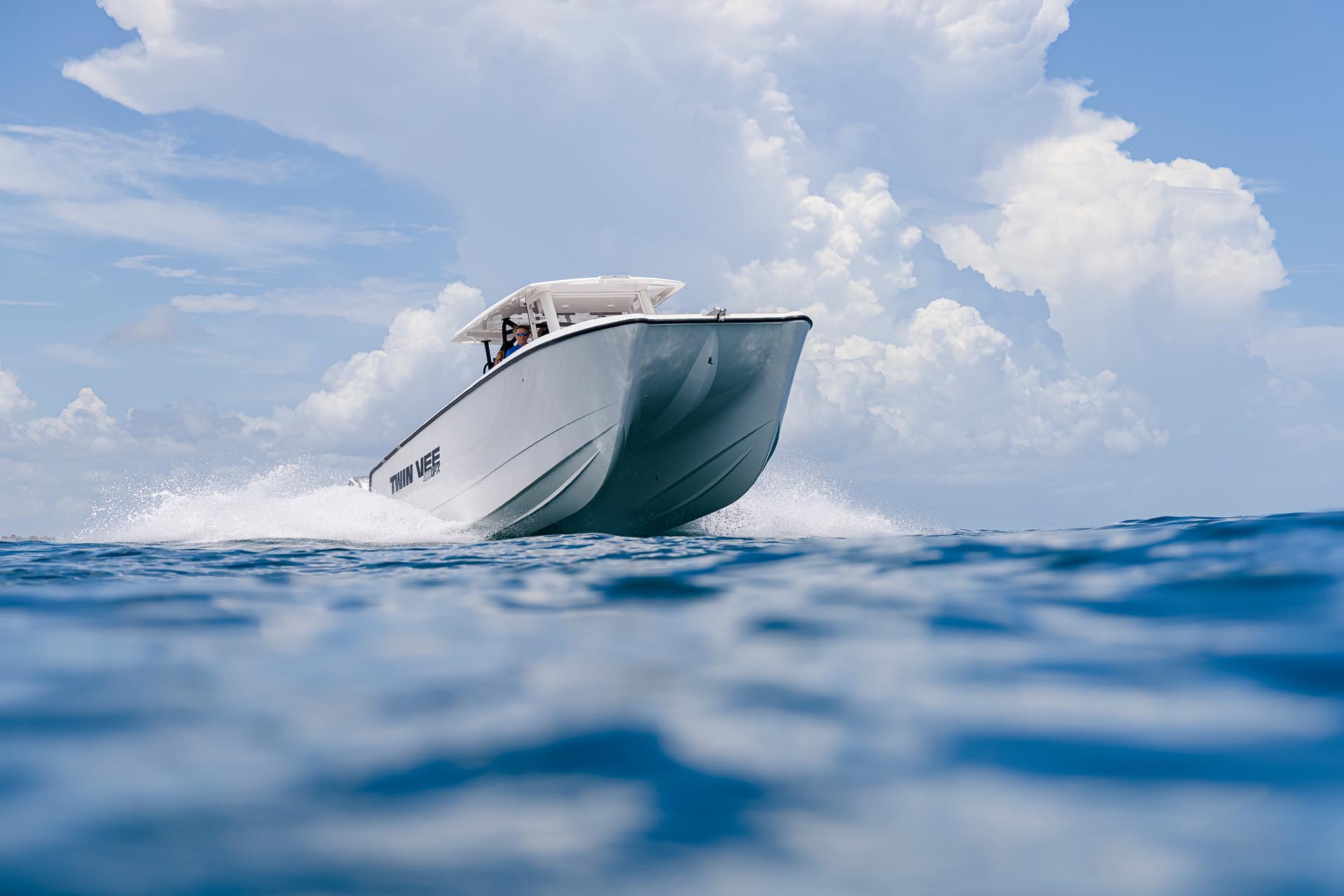 Terms and Conditions
Effective Date: February 14, 2020
Welcome to www.twinvee.com (the "Site"). This Site is operated by Twin Vee Powercats, Inc. (hereinafter "Twin Vee Powercats") and the content on the Site is owned by Twin Vee Powercats or its affiliated companies and by affiliates and third parties that may post on the Site through a license from Twin Vee Powercats, but for whom Twin Vee Powercats assumes no direct responsibility. Please read these terms and conditions and the Privacy Policy contained on the Site, as they, together with any additional terms to which you agree when using particular elements of the Site, constitute the entire agreement regarding the Site and set forth the legally binding terms governing your visit to this Site. These Terms and Conditions apply to all persons who visit this Site ("Visitors"), regardless of your level of participation.
By using this Site you agree that you have read, understand and accept the following terms and conditions ("Terms and Conditions") and the Privacy Policy, and you affirm that you are either more than 18 years of age, or an emancipated minor, or possess legal parental or guardian consent, and that you are fully able and competent to enter into the terms, conditions, obligations, affirmations, representations, and warranties set forth in these Terms and Conditions, and to abide by and comply with these Terms and Conditions. By using this Site, you also agree that you will not use this Site for any purpose that is unlawful or in contravention of these Terms and Conditions. Twin Vee Powercats and its affiliates reserve the right to change these Terms and Conditions from time to time without notifying you. If you object to any such changes, your sole recourse shall be to cease using this Site. Continued use of the Site following the effective date any such changes shall indicate your acknowledgement of such changes and agreement to be bound by the Terms and Conditions of such changes. Twin Vee Powercats may cease all or part of the Site at any time without notice and is not obligated to retain or return any post or comment. If you do not agree to any of these Terms and Conditions, or the Privacy Policy, please do not use the Site.
United States Site and Pricing
Twin Vee Powercats administers this Site from Florida, United States of America and this Site is only intended for viewing in the United States. All materials and information contained on this Site apply to the United States market only. Twin Vee Powercats makes no representation that the Site is appropriate or available for use outside the United States. If you choose to access the Site from outside the United States, you do so at your own initiative and are responsible for compliance with applicable laws. You agree to comply with all export and re-export laws, restrictions and regulations of your government in connection with your use of the Site.
All pricing is in U.S. dollars. This Site in no way constitutes an offer to buy or sell boats from Twin Vee Powercats or to provide financing. Twin Vee Powercats makes reasonable efforts to ensure that the pricing and product information contained on this Site is correct.
PRICES, PRODUCT SPECIFICATIONS AND ALL OTHER INFORMATION SHOWN ON THIS SITE ARE FOR INFORMATION PURPOSES ONLY, ARE SUBJECT TO CHANGE AT ANY TIME WITHOUT OBLIGATION, MAY VARY FROM REGION TO REGION, AND MAY NOT BE COMPLETELY UP TO DATE OR ACCURATE.
Pricing excludes destination and delivery charges, any applicable taxes, any applicable fees, such as title and registration, any industry specific fee, any applicable consumer rebates or incentives, and the cost of any dealer added options. Optional equipment is not included unless specifically indicated. Any calculation of any price, tax, incentive, or finance terms is for your reference only, is an estimate, and may not be completely accurate. Individual Twin Vee Powercats authorized dealers can provide you with the actual transaction price. Contact your selected dealer for the actual price of any boat and any applicable terms and conditions that may apply. The promotional programs and/or incentives offered on this Site are only available in the United States and may be limited to particular states and subject to restrictions and/or qualifications, as disclosed by the program.
Depiction of Boats
Boats shown on this Site are for general illustration only. Boats shown are typically a sample boat only of the same model year. Details of a selected boat may vary from the boat shown depending on the features you choose. Boat and model availability may be limited and is subject to availability.
Third-Party Information such as Comparator Values
This Site may contain links to third-party websites that are not owned or controlled by Twin Vee Powercats, including but not limited to links to websites for authorized dealers (Third-Party Websites). Twin Vee Powercats has no control over, and assumes no responsibility for, the content, privacy policies, or practices of any Third-Party Websites. In addition, Twin Vee Powercats will not and cannot censor or edit the content of any Third-Party Website. By clicking on links, you expressly relieve Twin Vee Powercats from any and all liability arising from your use of any Third-Party Website, or from the content of any Third Party Website. When using a Third-Party Website, you should be aware when you leave Twin Vee Powercats' Site and read the terms and conditions and privacy policy of each Third-Party Website that you visit.
Limited Licenses
This Site, including all materials, is protected by worldwide copyright laws and treaty provisions whether or not a copyright notice is present on the materials. All text, images, graphics, animation, videos, music, sounds and other materials on this Site are subject to the copyrights and other intellectual property rights of Twin Vee Powercats, its affiliated companies and its licensors. You agree to comply with all copyright laws worldwide in your use of this Site and to prevent any unauthorized copying of the materials. Except as expressly provided herein, Twin Vee Powercats does not grant any express or implied right to you under any patents, trademarks or copyrights.
Subject to your continued compliance with these terms and conditions, Twin Vee Powercats grants you a non-exclusive, non-transferable, limited right to access, use, display and listen to this Site and the information, images, sounds and text ("materials") thereon. You agree not to interrupt or attempt to interrupt the operation of the Site in any way. You agree not to dispute Twin Vee Powercats' claims of ownership or validity of its rights in the materials on this Site.
Twin Vee Powercats authorizes you to view and download the materials at this Site only for your personal, non-commercial use. Twin Vee Powercats may suspend or terminate this authorization at any time for any reason. This authorization is not a transfer of title in the materials and copies of the materials and is subject to the following restrictions:
You must retain, on all copies of the materials downloaded, all copyright and other proprietary notices contained in the materials;
You may not modify the materials in any way or reproduce or publicly display, perform, distribute, or otherwise use them for any public or commercial purpose;
You must not transfer the materials to any other person unless you give them notice of, and they agree to accept, the obligations arising under these terms and conditions of use.
Linking, Crawling and Archiving
If you would like to link to this Site, you must comply with the following guidelines:
Do not incorporate any content from this Site into your site (e.g., by in-lining, framing or creating other browser or border environments around the website content). You may only link to, not replicate, the Site content;
You may not use any Twin Vee Powercats trademarks, logos, designs or service marks in your links;
You may not create the appearance of a relationship or affiliation with Twin Vee Powercats; and
Your site may not contain offensive, distasteful, illegal or inappropriate content.
If you would like to use a web crawler or other search tool to gather information from the Site, you must comply with the provisions of the Terms and Conditions and you may not circumvent any and all security measures in place.
Other Conditions/Restrictions
CAUTION: ANY ATTEMPT BY ANY INDIVIDUAL TO DELIBERATELY DAMAGE ANY WEBSITE, TAMPER WITH THE SUBMISSION PROCESS, OR OTHERWISE UNDERMINE TWIN VEE POWERCATS' LEGITIMATE BUSINESS OPERATIONS MAY BE A VIOLATION OF CRIMINAL AND CIVIL LAWS AND SHOULD SUCH AN ATTEMPT BE MADE, TWIN VEE POWERCATS RESERVES THE RIGHT TO COOPERATE IN THE PROSECUTION OF ANY SUCH INDIVIDUAL(S) AND TO PURSUE ALL REMEDIES TO THE FULLEST EXTENT PERMITTED BY LAW.
Trademark Notice
The Twin Vee Powercats name, and all trademarks and logos displayed on this Site are owned or used under license by Twin Vee Powercats. The unauthorized use of any trademark displayed on this Site is strictly prohibited.
Changes to the Site
Twin Vee Powercats and its affiliates reserve the right to change, modify, suspend, discontinue or permanently cancel this Site's operation or portions thereof without any notice to you, including but not limited to product specifications or prices, at any time and from time to time without notice and without incurring any obligations. Your use of this Site after any changes are posted will be considered acceptance of such changes.
Privacy
For an explanation of Twin Vee Powercats' policies and practices regarding information that we may collect from you in connection with your use of this Site, you should review Twin Vee Powercats' Privacy Policy the terms of which are incorporated herein. By using this Site, you are agreeing to this Privacy Policy and you will be bound by the terms of such Privacy Policy.
Indemnity and Hold Harmless
By using this Site you agree that you will defend, indemnify and hold harmless Twin Vee Powercats and its subsidiaries and affiliates, their respective stores and advertising and promotions agencies, together with their respective employees, agents, directors, officers and shareholders, from and against all the liabilities, claims, damages and expenses (including reasonable attorneys' fees and costs) arising out of your use of this Site, your breach or alleged breach of these Terms and Conditions, and/or your breach or alleged violation of the patent, copyright, trademark, proprietary or other rights of third parties. Twin Vee Powercats reserves the right to assume the exclusive defense and control of any matter otherwise subject to indemnification by you, and, in such case, you shall agree to cooperate with Twin Vee Powercats' defense of such claim.
Copyright Notification
If you believe that any content on this Site infringes your copyright rights, please contact Twin Vee Powercats as follows:
Twin Vee Powercats, 3101 US-1, Fort Pierce, FL 34982
Email: info@twinvee.com.
Phone: 772-429-2525
In your communication, please include:
Your physical or electronic signature.
Identification of the copyrighted work you claim to have been infringed, or, if there are multiple copyrighted works, a representative list of such works.
Identification of the material that you claim to be infringing, and information reasonably sufficient to permit us to locate the material.
Information reasonably sufficient to permit us to contact you, such as an address, telephone number, and, if available, an email address.
A statement that you have a good faith belief that use of the material in the manner complained of is not authorized by you or the law.
A statement that the information your notification is accurate.
If the communication is submitted by someone on your behalf, the communication must also contain a statement that, under penalty of perjury, the submitter is authorized to act on your behalf.
Disclaimer
Twin Vee Powercats may at any time revise these Terms and Conditions by updating this posting. You are bound by such revisions and should therefore visit this page to review the current Terms and Conditions from time to time. NOTE THAT THESE TERMS AND CONDITIONS APPLY ONLY TO THIS SITE, OTHER WEBSITES PROVIDED BY TWIN VEE POWERCATS OR ITS AFFILIATES MAY HAVE DIFFERENT TERMS AND CONDITIONS THAT APPLY TO THE USE OF THOSE SITES. YOU ARE RESPONSIBLE FOR READING AND UNDERSTANDING THE TERMS AND CONDITIONS OF THOSE SITES.
This Site and all the information it contains is provided for information purposes only on an "as is" basis and could include technical, typographical or other errors. In certain areas, the information provided may represent an opinion or judgment. Twin Vee Powercats, information providers and their agents make no warranties, representations, or guarantees of any kind, express or implied, including but not limited to, accuracy, currency, or completeness, the operation of the Site, the information, materials, content, availability, and products. To the extent permitted by applicable law, Twin Vee Powercats disclaims all warranties, express or implied, including but not limited to, implied warranties of merchantability and fitness for a particular purpose. Twin Vee Powercats is not responsible for the content of any Site linked to this Site and is not directly or indirectly implying any approval, endorsement or affiliation with any linked Site.
YOU AGREE THAT YOUR USE OF THIS SITE SHALL BE AT YOUR SOLE RISK. TO THE FULLEST EXTENT PERMITTED BY LAW, TWIN VEE POWERCATS'S OFFICERS, DIRECTORS, EMPLOYEES, PARENTS, AFFILIATES, SHAREHOLDERS, REPRESENTATIVES AND AGENTS DISCLAIM ALL WARRANTIES, EXPRESS OR IMPLIED, IN CONNECTION WITH THIS SITE AND YOUR USE THEREOF. TWIN VEE POWERCATS, ITS INFORMATION PROVIDERS AND THEIR AGENTS, MAKE NO WARRANTIES OR REPRESENTATIONS ABOUT THE CONTENT OF ANY SITES LINKED TO THIS SITE AND ASSUMES NO LIABILITY OR RESPONSIBILITY FOR ANY (I) ERRORS, MISTAKES, OR INACCURACIES OF CONTENT, (II) PERSONAL INJURY OR PROPERTY DAMAGE, OF ANY NATURE WHATSOEVER, RESULTING FROM YOUR ACCESS TO AND USE OF OUR WEB SITE, (III) ANY UNAUTHORIZED ACCESS TO OR USE OF OUR SECURE SERVERS AND/OR ANY AND ALL PERSONAL INFORMATION AND/OR FINANCIAL INFORMATION STORED THEREIN, (IV) ANY INTERRUPTION OR CESSATION OF TRANSMISSION TO OR FROM OUR WEB SITE, (IV) ANY BUGS, VIRUSES, TROJAN HORSES, OR THE LIKE WHICH MAY BE TRANSMITTED TO OR THROUGH OUR WEB SITE BY ANY THIRD-PARTY, AND/OR (V) ANY ERRORS OR OMISSIONS IN ANY CONTENT OR FOR ANY LOSS OR DAMAGE OF ANY KIND INCURRED AS A RESULT OF THE USE OF ANY CONTENT POSTED, EMAILED, TRANSMITTED, OR OTHERWISE MADE AVAILABLE VIA THE WEB SITE. TWIN VEE POWERCATS DOES NOT WARRANT, ENDORSE, GUARANTEE, OR ASSUME RESPONSIBILITY FOR ANY PRODUCT OR SERVICE ADVERTISED OR OFFERED BY A THIRD-PARTY THROUGH THE WEB SITE OR ANY HYPERLINKED WEB SITE OR FEATURED IN ANY BANNER OR OTHER ADVERTISING, AND TWIN VEE POWERCATS WILL NOT BE A PARTY TO OR IN ANY WAY BE RESPONSIBLE FOR MONITORING ANY TRANSACTION BETWEEN YOU AND THIRD-PARTY PROVIDERS OF PRODUCTS OR SERVICES. AS WITH THE PURCHASE OF A PRODUCT OR SERVICE THROUGH ANY MEDIUM OR IN ANY ENVIRONMENT, YOU SHOULD USE YOUR BEST JUDGMENT AND EXERCISE CAUTION WHERE APPROPRIATE. NEITHER TWIN VEE POWERCATS, INFORMATION PROVIDERS OR THEIR AGENTS ARE PROVIDING ANY LEGAL, TAX, MEDICAL, COUNSELING, ACCOUNTING, INVESTMENT, FINANCIAL OR ANY OTHER PROFESSIONAL SERVICES OR ADVICE.
Notices
Any notices or other communications permitted or required here under, including those regarding modifications to these Terms, will be in writing and given by Twin Vee Powercats (i) via email (in each case to the address that you provide) or (ii) by posting to the Twin Vee Powercats website. For notices made by e-mail, the date of receipt will be deemed the date on which such notice is transmitted.
Controlling Law and Jurisdiction
By using the site, you agree that the Federal Arbitration Act, applicable federal law, and the laws of the State of Florida, without regard to principles of conflict of laws, will govern these Terms and any dispute of any sort that might arise between you and Twin Vee Powercats.
You and we agree to submit to the personal jurisdiction of a state court located in St. Lucie County, Fort Pierce, Florida or a United States District Court, Southern District of Florida for any actions for which the parties seek injunctive or other equitable relief to prevent the actual or threatened infringement, misappropriation or violation of a party's copyrights, trademarks, trade secrets, patents, or other intellectual property rights, as set forth in the Dispute Resolution provision below.
Dispute Resolution
You and Twin Vee Powercats agree that any dispute, claim or controversy arising out of or relating to these Terms or the breach, termination, enforcement, interpretation or validity thereof, or to the use of the site (collectively, "Disputes") will be settled by binding arbitration, except that each party retains the right to seek injunctive or other equitable relief in a court of competent jurisdiction to prevent the actual or threatened infringement, misappropriation or violation of a party's copyrights, trademarks, trade secrets, patents, or other intellectual property rights. YOU ACKNOWLEDGE AND AGREE THAT YOU AND TWIN VEE POWERCATS ARE EACH WAIVING THE RIGHT TO A TRIAL BY JURY OR TO PARTICIPATE AS A PLAINTIFF OR CLASS MEMBER IN ANY PURPORTED CLASS ACTION OR REPRESENTATIVE PROCEEDING. Further, unless both you and TWIN VEE POWERCATS otherwise agree in writing, the arbitrator may not consolidate more than one person's claims and may not otherwise preside over any form of any class or representative proceeding. If this specific paragraph is held unenforceable, then the entirety of this "Dispute Resolution" section will be deemed void. Except as provided in the preceding sentence, this "Dispute Resolution" section will survive any termination of these Terms.
Arbitration Rules and Governing Law. With the exception of claims under $15,000 in value, any arbitration will be administered by the American Arbitration Association ("AAA") in accordance with the Commercial Arbitration Rules and the Supplementary Procedures for Consumer Related Disputes (the "AAA Rules") then in effect, except as modified by this "Dispute Resolution" section. (The AAA Rules are available at http://www.adr.org/arb_med or by calling the AAA at 1-800-778-7879.) The Federal Arbitration Act will govern the interpretation and enforcement of this section.
You agree that any dispute, claim, or controversy under $15,000 in value arising out of or relating to these Terms, between you and Twin Vee Powercats or the existence, breach, termination, enforcement, interpretation, or validity thereof, shall be settled by binding arbitration administered by Fairclaims (www.FairClaims.com) and not in a court of law, in accordance with FairClaims' procedures effective at the time a claim is made. You further agree that judgement on the award rendered by the arbitrator(s) may be entered in any court having jurisdiction thereof.
Arbitration Process. A party who desires to initiate arbitration must provide the other party with a written Demand for Arbitration as specified in the AAA Rules. (The AAA provides a form Demand for Arbitration and a separate form for California residents). The arbitrator will be either a retired judge or an attorney licensed to practice law in the state of California and will be selected by the parties from the AAA's roster of consumer dispute arbitrators. If the parties are unable to agree upon an arbitrator within seven (7) days of delivery of the Demand for Arbitration, then the AAA will appoint the arbitrator in accordance with the AAA Rules.
Arbitration Location and Procedure. Unless you and Twin Vee Powercats otherwise agree, the arbitration will be conducted in Fort Pierce, Florida, USA. Subject to the AAA Rules, the arbitrator will have the discretion to direct a reasonable exchange of information by the parties, consistent with the expedited nature of the arbitration.
Arbitrator's Decision. The arbitrator will render an award within the time frame specified in the AAA Rules. The arbitrator's decision will include the essential findings and conclusions upon which the arbitrator based the award. Judgment on the arbitration award may be entered in any court having jurisdiction thereof. The arbitrator's award damages must be consistent with the terms of the "Limitation of Liability" section above as to the types and the amounts of damages for which a party may be held liable. The arbitrator may award declaratory or injunctive relief only in favor of the claimant and only to the extent necessary to provide relief warranted by the claimant's individual claim. If you prevail in arbitration you will be entitled to an award of attorneys' fees and expenses, to the extent provided under applicable law. Twin Vee Powercats will not seek, and hereby waives all rights it may have under applicable law to recover, attorneys' fees and expenses if it prevails in arbitration.
Fees. Your responsibility to pay any AAA filing, administrative and arbitrator fees will be solely as set forth in the AAA Rules.
Claims. YOU AGREE THAT ANY DISPUTES ARISING OUT OF OR RELATED TO THE TERMS MUST COMMENCE WITHIN ONE (1) YEAR AFTER THE DISPUTE ACCRUES. OTHERWISE, THE DISPUTE IS PERMANENTLY BARRED.
Changes. Notwithstanding the provisions of the Modification section above, if Twin Vee Powercats changes this Dispute Resolution section after the date you first accepted these Terms (or accepted any subsequent changes to these Terms), you may reject any such change by sending us written notice (via a support ticket within 30 days of the date such change became effective, as indicated in the Last Updated Date above or in the date of Twin Vee Powercats's email to you notifying you of such change. By rejecting any change, you are agreeing that you will arbitrate any Dispute between you and Twin Vee Powercats in accordance with the provisions of this Dispute Resolution section as of the date you first accepted these Terms (or accepted any subsequent changes to these Terms).
General
The failure of Twin Vee Powercats to enforce any right or provision of these Terms will not constitute a waiver of future enforcement of that right or provision. The waiver of any such right or provision will be effective only if in writing and signed by a duly authorized representative of Twin Vee Powercats. Except as expressly set forth in these Terms, the exercise by either party of any of its remedies under these Terms will be without prejudice to its other remedies under these Terms or otherwise. If for any reason an arbitrator or a court of competent jurisdiction finds any provision of these Terms invalid or unenforceable, that provision will be enforced to the maximum extent permissible and the other provisions of these Terms will remain in full force and effect.
Contacting Twin Vee Powercats
If you have any questions about these Terms of Service, please contact Twin Vee Powercats.