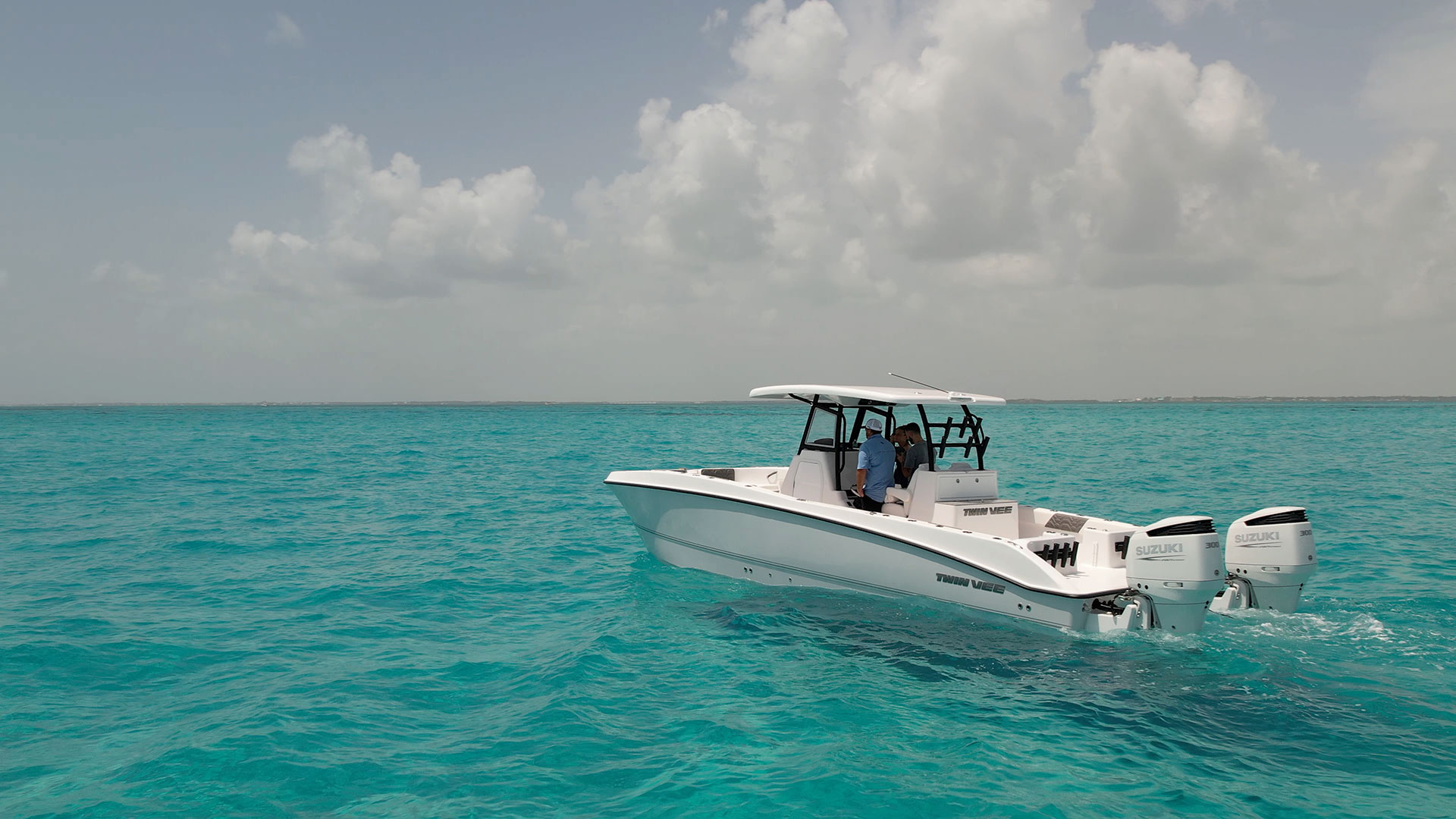 Stacy Johnson
Very happy with our 26TV. My husband wanted a catamaran for a couple of years and did a lot of research and sea trials before choosing TWIN VEE. We have had our boat for just over 2 years, and I have been very happy. It is the perfect boat for the two of us to go grab dinner, or taking 4 to 6 people offshore fishing, or 8-10 people for a fun boat day at Fort Pickens or Crab Island! Plenty of room and a very comfortable ride!
WeekendHooker
I took a drive to South Carolina today to test run a 240 center console and the new 280GFX center console. I came away from today's sea trial absolutely blown away with how the 28 beast literally tamed a 3-4 ft washing machine of a sea today. I launched the boat four times into the head sea and every single time it landed as soft as if there were gentle rollers out there. Kudos to the engineers at TV for creating probably one of the best riding boats I've ever been on. The 24 did pretty good considering the conditions but after running the 26 last weekend I will have to say that the 26 is definitely more oriented towards bigger seas and offshore fishing compared to the 24. The 28 exhibited very little tunnel slap and when it did it was very muted. You can tell that the 28 is far more substantial in construction and weight. I will post a couple of pictures of the 28 and the 24… I will also try to post a video of each.
April Riggins
I love your boats I had the pleasure of riding on a couple. I love the way they are made. One of the best boat companies around. You can't go wrong with Twin Vee.
Will Condon
I have owned a 26 GF for two years now… a great ride and safe for the family. I have been as far out as 80 miles in the Gulf of Mexico and felt safe the whole way. Twin Vee is very responsive and provides great customer service.
Grace Marroquin
10/10 Best quality in the treasure coast, and I recommend. The place is a friendly environment and has good employees. The boats are very great in the water.
Noah Gershon
My buddy just got a 17 Bay Cat. Really nice boat with a lot of room on the bow to layout or put a couple of bean bags up there. Well made with good storage and super easy to get on & off the trailer. Cruised down the Intracoastal and she handled 1-2 foot wakes from other boats and wind chop with NO problem. Looking forward to doing some fishing and skiing in the weeks to come here to South Florida.
David Lint
From the initial test ride, purchase, and a few repairs over the last 3 years the experience was outstanding. The day that I had my test ride with Preston I placed a down-payment on the 26SE. I have not been disappointed. The ride and performance have to be experienced. It rides thru chop (no banging) and my fuel economy doubled from my 25'er. Twin Vee stands by their boats, the few items that needed attention they were quick to respond to.
Ryan Bradley
Working for a Boat Dealership in Southwest Florida and looking for our next boat I took 240 CC out for a joy ride with the family one day. That was it the ride, the performance was amazing. I came home and ordered one straight away. The family loves it!!! Thank you, Twin Vee!!!
Danny Thomas
In 2018 I was shopping for a catamaran to replace my previous cat did my research and decided on 18' Twin Vee 260GF w/ 150 Suzuki's. It has been a great boat for shallow and offshore fishing. Amazing ride even in rough seas. If in the market for a cat go for a test ride you won't be disappointed. Best ride and at a fair price.
Michael Pollis
I have owned two 26 ft Twin Vee boats and I am ready to move up to the 31. Love the ride and the performance. They have always stood behind their warranty and have always taken great care of me. I highly recommend Twin Vee.
Chris Simpkins
Excellent quality boats with an awesome customer service reputation. Not to mention all the space for an excellent fishing experience. You won't find a smoother riding boat out there on rough water.
Japtalian Evans
Great boats with good quality. I had a wonderful time with riding on a Twin Vee boat in the Intercoastal water. It was amazing and 1 of the best boating experience I have ever had.