Twin Vee Unveils Transformative New PowerCat for 25th Anniversary; Awarded "Best Boat" by Florida Sportsman Magazine
FORT PIERCE, FL / ACCESSWIRE / May 15, 2019 / Twin Vee PowerCats, Inc. (OTC PINK: TVPC), is celebrating its 25th anniversary by doing what it has done from the very start: design and construct revolutionary new multi-hull boats. It is fitting that we introduce an all-new state-of-the-art PowerCat that represents a culmination of design, marine engineering, ride performance, and quality.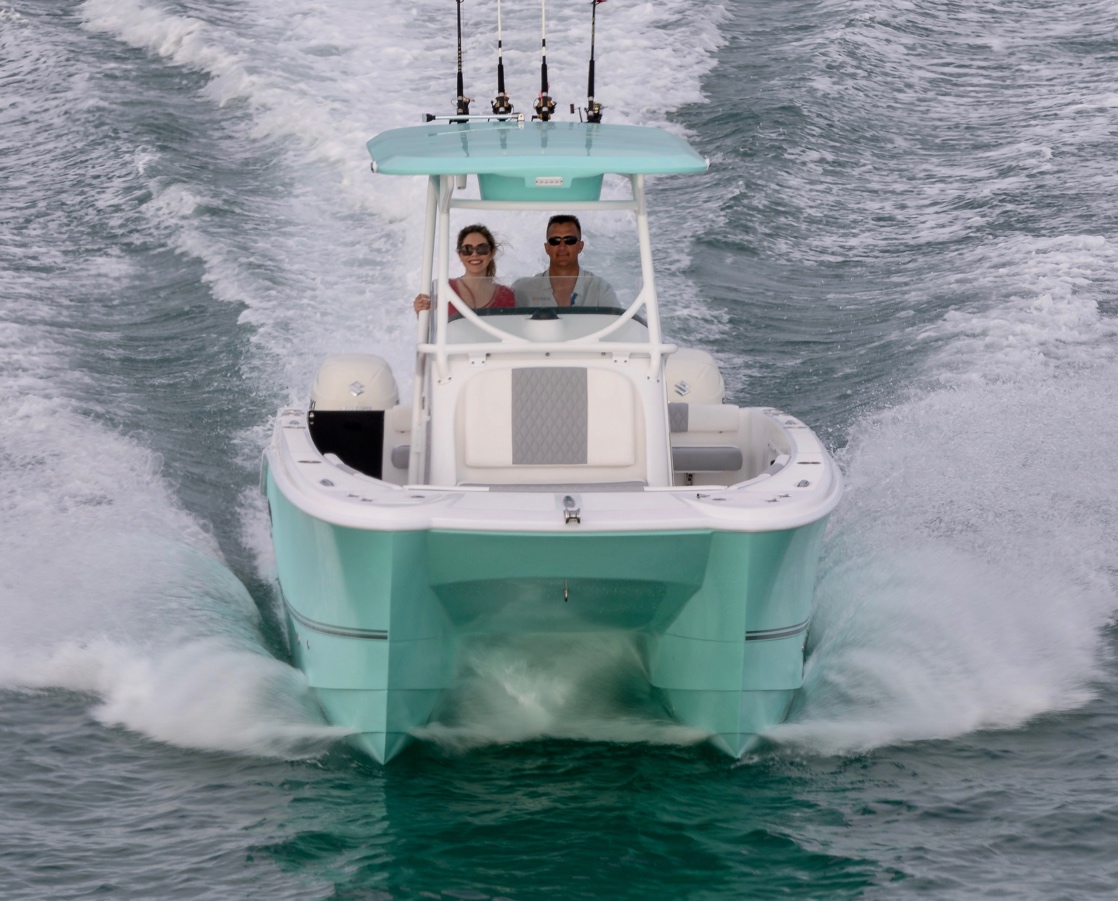 240 CC Powercat with twin 115 HP Suzuki motors
Twin Vee PowerCats has been an innovator in developing stable, fuel efficient, twin-hulled watercraft that now expand to nearly 20 boat models. Our boats have historically been affordable, cost-efficient boats and that keep in mind our customers' expectation of great value for their money. Our boats not only serve the recreational needs of consumers, but also the wide variety of commercial uses for Twin Vee's legendary dual-hull stability and smooth ride – everything from sea-towing and charter fishing, to marine coverage of water sports events and feature film making. Twin Vee boats have provided a stable marine camera platform for the making of feature films, including the surfing biopic Chasing Mavericks, the James Bond film The World is Not Enough and several Pirates of the Caribbean films.
Despite the incredible strides Twin Vee had made over the years, when I took over as CEO in 2016, the company's focus had shifted away from quality fit and finish and the factory had fallen behind in design and fabrication technology. Success would require a change in culture, a management overhaul, and significant financial investment. It was also going to require updating designs and retooling across all boat models in order to compete in today's boating market. To put it another way, our challenge was to design boats that could be built and assembled at higher volume, cost-effectively, while improving quality.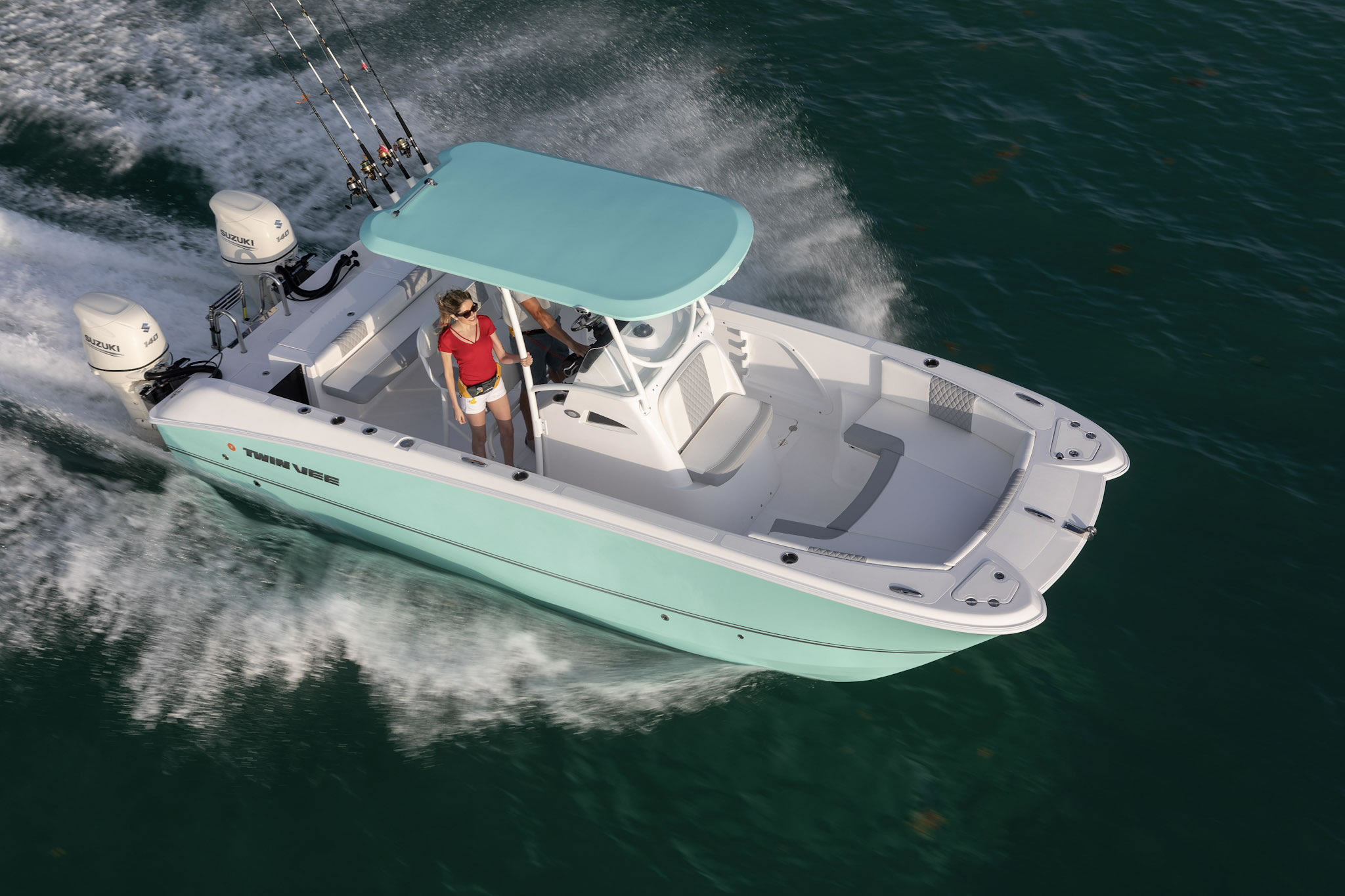 A bird's eye view of the 240 CC Powercat
With the help of Preston Yarborough, a 19-year Twin Vee veteran who had come up through the ranks, along with the truly dedicated employees of Twin Vee, we have eaten, slept, and breathed boat manufacturing in order to make it the kind of company I have always admired: a company with innovative products and services that change the way people live, work, and play for the better.
To that end, we have revamped all managerial processes from the supply chain to marketing and our dealership network. We renovated our entire 7-acre facility and added more under-roof manufacturing space. We acquired new technology, such as (2) DMS 30-foot gantry CNC 5-axis routers to improve manufacturing efficiency and quality as well as aid in designing and developing entirely new Twin Vee models. We also brought more of the manufacturing process, including marine upholstery, in house. We have upgraded T-tops and fittings across all models and our doors and hatches are injection molded onsite with new equipment for rigid uniformity and precise fit. After three solid years of preparation, Twin Vee is ready and able to produce innovative new designs that make your heart beat a little faster.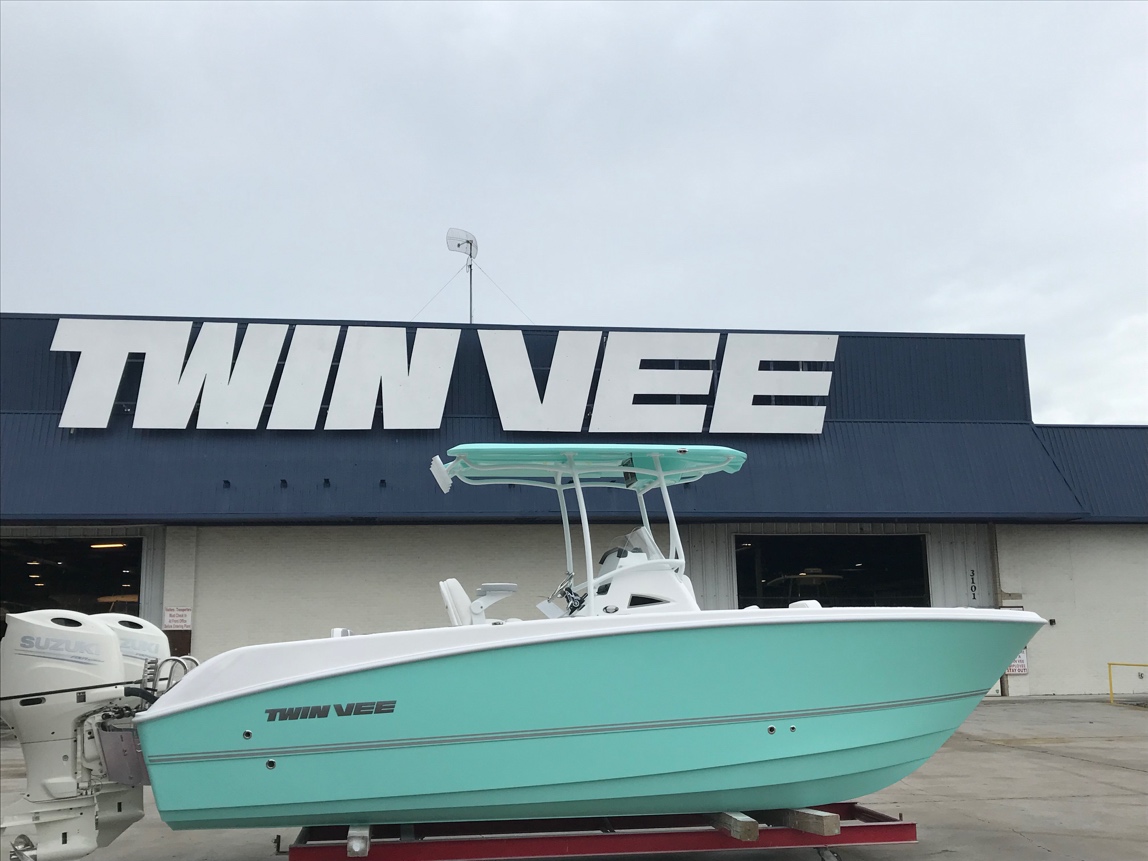 A newly manufactured 240 CC Powercat
Over the years, Twin Vee received many requests from customers for a smaller, single or dual engine, PowerCat. Interestingly, nationwide boater registration data indicates that 23- and 24-foot boats are the best-selling boat lengths in the country due to the trailerable size and affordability. Earlier Twin Vees with lengths around 20 feet have been single-engine bay boats with low gunnels and shallow sponsons. This time, though, we wanted our new boat to have the same stability and performance characteristics of our very popular 310 PowerCat. With our new CNC 5-axis router, we gained the capability of digitally engineering and milling a prototype hull and cap configurations in-house. This gives us end-to-end control over every aspect of the R&D and product development, so we translated the same hull specifications of the 310 PowerCat to create the hull configuration for the new 240 Center Console Twin Vee.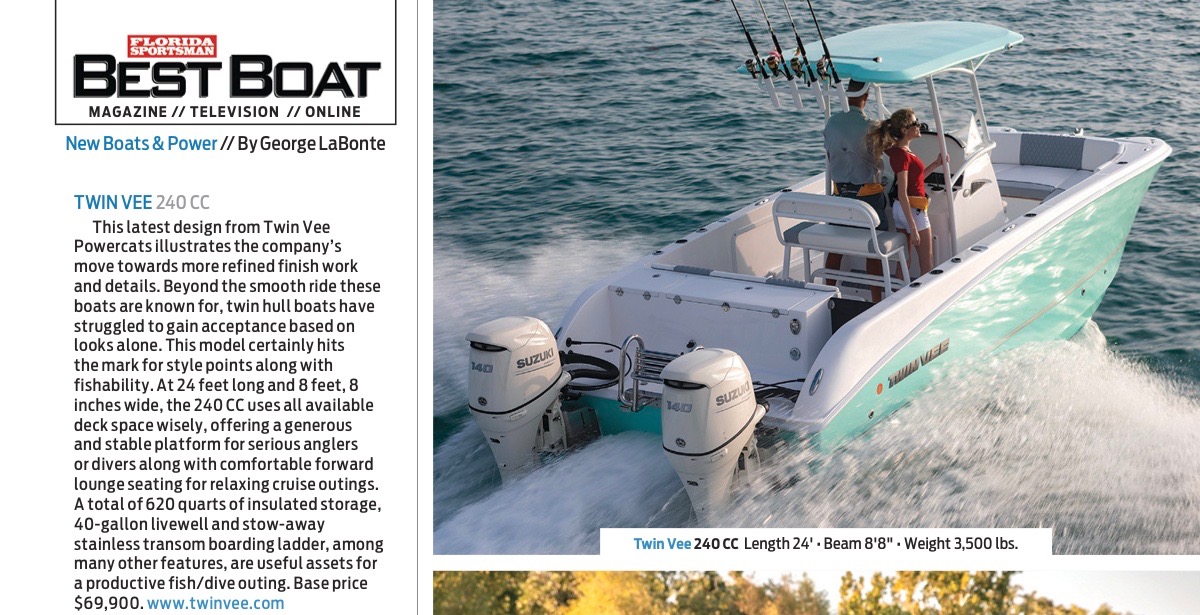 An excerpt from Florida Sportsman Magazine about the 240 CC Powercat
The result has been nothing short of impressive and has been gaining accolades to prove it. Recently, Florida Sportsman named the 240 CC one of its 'Best Boats', stating that the "model certainly hits the mark for style points along with fishability." We couldn't agree more with the Florida Sportsman that our latest design "illustrates [Twin Vee's] move towards more refined finish work and details."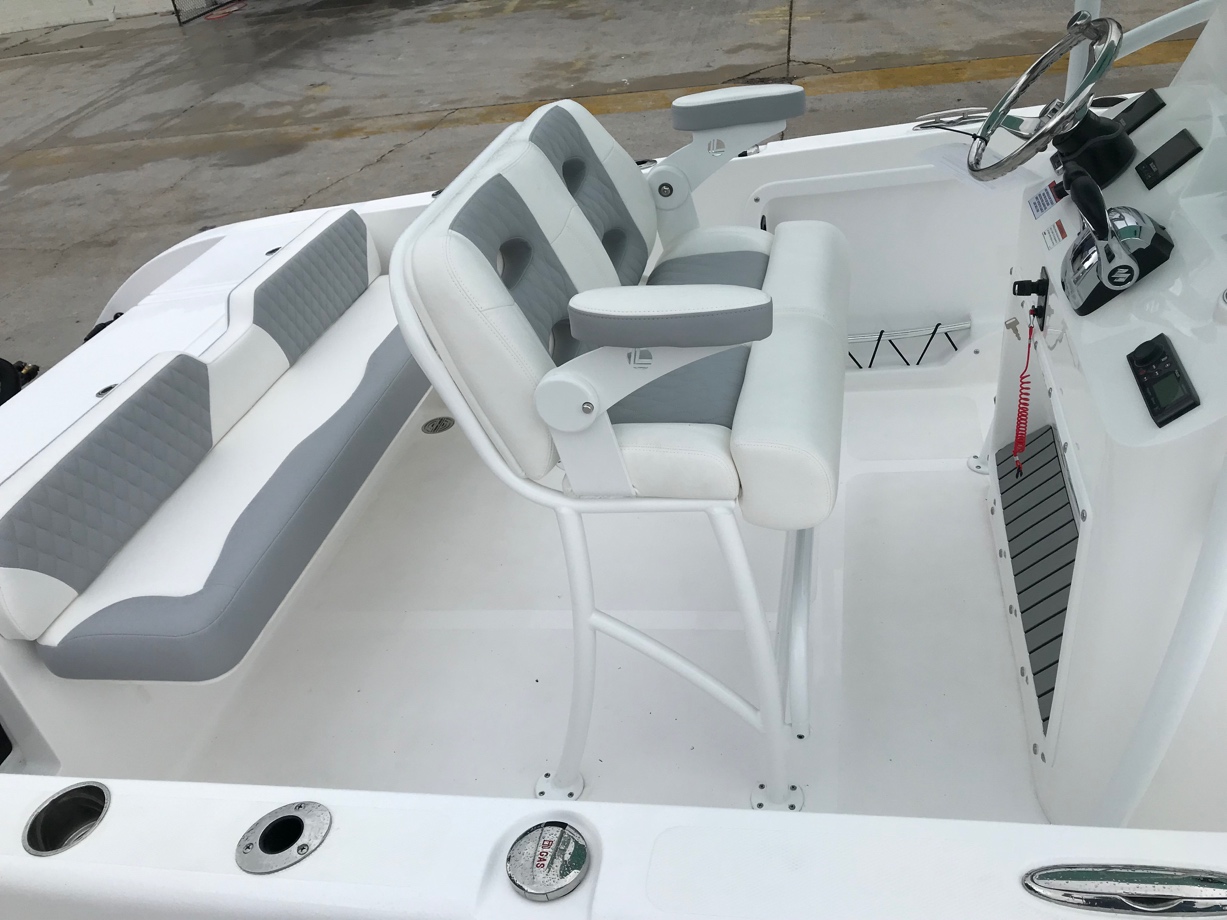 A look onboard a 240CC Powercat
Twin Vee has built more than 7,000 boats since its inception and I think it is very fitting that the newly revamped Twin Vee company is releasing its first new hull model in many years on this anniversary. We believe the new 240 CC is the beginning of something great that will change the way our customers live, work, and play for the better.
By. Joseph C. Visconti, President of Twin Vee PowerCats, Inc.
For those interested in learning more about the Twin Vee 240 CC Powercat or to find your nearest Twin Vee PowerCats' dealer, please visit www.twinvee.com.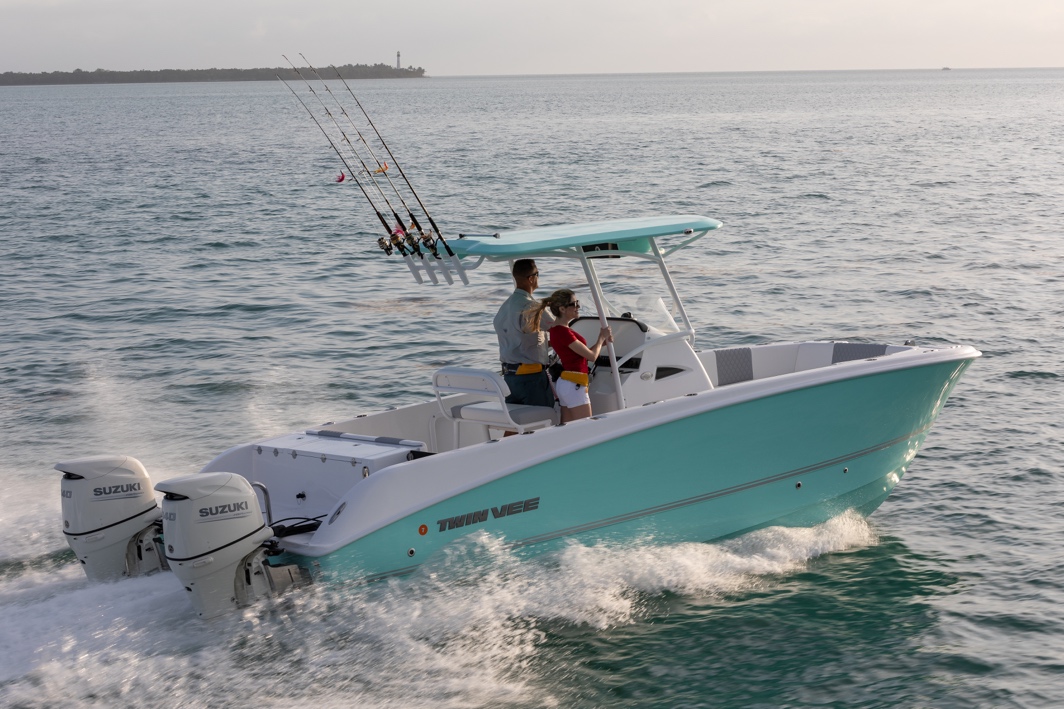 About Twin Vee PowerCats, Inc.
Headed by CEO Joseph Visconti, Originally founded in 1994, the company designs, manufactures and sells recreational and commercial twin-hull power boats under the Twin Vee brand name. Over the past 25 years, the company has concentrated on perfecting the high-speed twin-displacement hull design, also known as a "catamaran powerboat." For more information, go to www.twinvee.com or visit Twin Vee Powercats, Inc.'s Facebook page.
Contact:
Joseph Visconti
info@twinvee.com
(772) 429-2525